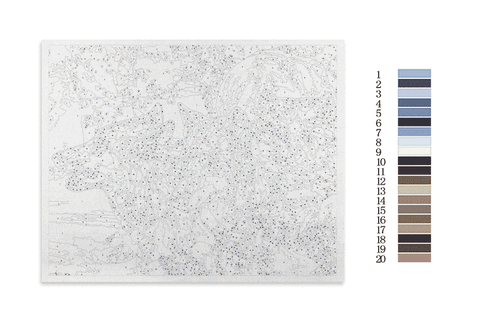 You will create a beautiful and exquisite picture no matter you are good or poor in drawing. Our DIY paint by numbers kits is the perfect indoor activity for the whole family. This is a pretty choice as a gift! 
    Paint by numbers for adults is a creative hobby for all to enjoy.
    Painting is no longer reserved for the elite capable of painting the most sublime landscapes with their eyes closed. With paint by numbers, you can gain experience without ever making a mistake as the image is already drawn on the canvas. Numbers tell you which color to use, just follow the guide!
    If you prefer, you can avoid using the numbers altogether and paint according to your preference and what you see on the canvas in front of you. The goal is to take pleasure in painting.  Let the artist within you express themselves!
    There are endless themes to satisfy all your interests.
Whatever your age or taste, there's something for everyone in the different themes available. From still life to the masterpieces, sublime landscapes and wild animals (or not).
    Everything is possible! Paint by numbers is an excellent stress reliever and a great way to escape from your daily worries.
The time you spend painting a numbered canvas is time spent focusing on yourself and an opportunity to clear your mind!
    Share your passion for painting with loved ones and give them an original Christmas or birthday gift.